Two Rivers String Quartet with Featured Clarinet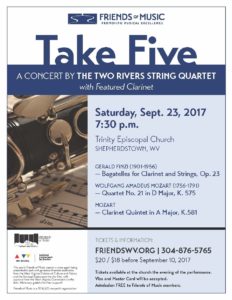 Take Five
September 23, 2017, 7:30 p.m.
Trinity Episcopal Church, Shepherdstown
Gerald Finzi (1901-1956) — Bagatelles for Clarinet and Strings, Op. 23
Wolfgang Amadeus Mozart (1756-1791) — Quartet No. 21 in D Major, K. 575
Wolfgang Amadeus Mozart (1756-1791) — Clarinet Quintet in A Major, K.581
This program is a melodist's dream! Mozart's Clarinet Quintet (which features a clarinet in addition to a string quartet) is a late work, and it presages his concerto for the same solo instrument in the same key of A major. In both masterpieces, this usually bright key — the Beethoven 7th Symphony in our November concert is also in A — takes on a wistful and sublime character, as does the richly hued 21st Quartet. British composer Gerald Finzi, of Jewish and Italian ancestry, is one of the 20th century's most unabashedly lyrical composers, and his Bagatelles bring out pastoral traits that are so much the characteristic signature of English poetry. It's dreamy!
Two Rivers Chamber Orchestra
"Joyful Noise"
November 18, 2017, 7:30 p.m.
Trinity Episcopal Church, Shepherdstown
Schumann––Träumerei
Prokofiev––Violin Concerto No. 2
Ruotao Mao, violin
  Intermission
Beethoven Symphony No. 7
Obsessions can be fun! This program certainly is. Rhythm is a driving and driven force in Beethoven's Symphony No. 7, and it remains one of the most innovative, compelling, and ecstatic symphonies ever written. Prokofiev's 2nd Violin Concerto is begins with a solo melody that can't let itself—or the listeners—go. Though stunningly beautiful slow movement and on to a pernicious witches dance, the piece works diabolical magic. We are delighted to welcome Beijing-born violin virtuoso Ruotao Mao. This concert, dedicated to the memory of longtime FOM patron Sherman Ross, opens with Schumann's gorgeously simple Träumerei that Horowitz played as an encore.
Two Rivers String Quartet
"Contrasting Passions"
Saturday, January 13, 2018, 7:30pm
(snow date January 20)
Trinity Episcopal Church, Shepherdstown
Bedřich Smetana (1824-1884) — String Quartet No. 1
("From My Life", Czech: "Z mého života") in E minor
Felix Mendelssohn (1809-1847) — String Quartet No. 2 in E Minor, Op. 44
Though both works show great passion, Mendelssohn's 2nd and Smetana's 1st are a study in contrast. The Mendelssohn is virtuosic, fleet, and intense, with moments—such as the final chorale—of magnificent serenity. Smetana is earthy, loamy even. Its Slavic depths contrast with folksy boot-stomp. As the father of Czech music, Smetana also points the way towards Dvorak and Janacek, whom we hear later in our season.
Two Rivers Chamber Orchestra
"Pipe Dreams"
March 24, 2018, 7:30pm
Trinity Episcopal Church, Shepherdstown
George Frideric Handel (1685-1759) — Overture to Theodora, HVW 68
Handel — Organ Concerto, Op. 4, No. 1 HWV 289 in G Minor
Marvin Mills, organ
Handel — Organ Concerto, Op. 4, No. 4 HWV 292 in F Major
Marvin Mills, organ
Ottorino Respighi (1879-1936) — Suite for Strings, P. 41
Trinity Episcopal Church's historic organ forms the centerpiece for this program. Handel even more than Bach was known as the greatest known organist and composer of the day. We celebrate the instrument in performing two of his magnificently intimate concertos, interpreted by organist extraordinaire Marvin Mills. Theodora was late in Handel's output and has a rich opulence of sound and texture. Respighi's Suite is one of his most convincing works inspired by the past. It's reworks the Baroque dance-suite with beauty, clarity, and expression.
Two Rivers Chamber Orchestra
"Czech it Out"
May 19, 2018 7:30pm
Trinity Episcopal Church, Shepherdstown
Charles Gounod (1818-1893) — Petite Symphonie, Op. 216
Leoš Janacek (1854-1928) — Mládí Suite (Youth Suite) for Wind Instruments
Antonin Dvořák (1841-1904) — Serenade for Winds in D minor, Op. 44
We couldn't resist the pun or the fun! We have added a 2RCO concert this season, this one featuring our winds. Dvořák's Serenade has freshness that evokes folk elements that make his music perennially favorite in America. Taking the Czech/Bohemian elements to a more primitive and equally colorful level is Leoš Janáček's Mladi (Youth) Suite. In contrast, Gounod's Gallic clarity and is on full display in his Romantic, fond homage to the classical symphony in this loving, nostalgic snapshot for winds.