The Friends of Music will present a Two Rivers Chamber Orchestra concert in Shepherdstown on Saturday, November 18.
The concert will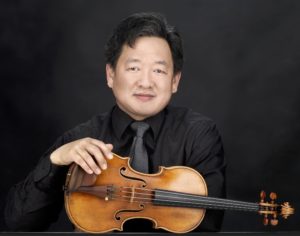 be held at Trinity Episcopal Church at 7:30 p.m. Entitled "Joyful Noise," it will feature three works: "Träumerei," by Robert Schumann; Prokofiev's 2nd Violin Concerto; and Beethoven's 7th Symphony. The featured soloist will be violinist Ruotao Mao.
Admission to the concert will be free for Friends of Music members. The ticket price for others will be $25 per person ($22.50 before November 5). Tickets can be purchased on the Friends' website at www.friendswv.org; or by mail (FOM, PO Box 220, Shepherdstown, WV 25443); or, if space is available, at the church the evening of the performance.
Two Rivers Chamber Orchestra Music Director Jed Gaylin will conduct. Gaylin says the evening's program "will demonstrate that classical music can, quite simply, be a lot of fun, and this is fun on overdrive!" The concert will open with Schumann's "Träumerei," a short, beautiful work that the legendary pianist Vladimir Horowitz frequently played as an encore. "It may look simple on the page," Horowitz said, "but it is a masterpiece." Prokofiev's 2nd Violin Concerto is one of the finest examples of the composer's effort to establish a "new simplicity" in music, centered on graceful melodies. Beethoven's 7th Symphony is full of relentless energy. It is generally regarded as one of the most innovative, compelling, and ecstatic symphonies ever written.
Mr. Mao, the violin soloist, is a native of Beijing, China who graduated from the New England Conservatory of Music with a "distinction in performance" award. He currently teaches violin and chamber music at The College of New Jersey and is the concertmaster of the Delaware Valley Philharmonic Orchestra, the Riverside Symphonia, the Bay Atlantic Symphony and most recently, the Glimmerglass Opera Orchestra. The Classical Network of New Jersey has described his playing as a "virtuoso display of world-class magnitude."
This concert is dedicated to the memory of the late Sherman Ross of Shepherdstown, a longtime Friends of Music patron, by his wife Elinor.
The Friends of Music is a non-profit organization that was founded in 1999 to support and promote musical excellence. The Two Rivers Chamber Orchestra was established by the Friends in 2007. Gaylin was named Music Director in 2012. He also serves as the Music Director of Baltimore's Hopkins Symphony Orchestra and the Bay Atlantic Symphony in New Jersey, and is an Artist in Residence at New Jersey's Stockton University.
This year's Two Rivers Chamber Orchestra Concerts are being supported by a grant from the WV Division of Culture and History and the National Endowment for the Arts, with approval from the WV Commission on the Arts.
Full information about the Friends, the Orchestra, and the concert season is available at www.friendswv.org.
http://www.friendswv.org/wp-content/uploads/2015/08/FOM_logo_400x66.jpg
0
0
Jennifer Perrotte
http://www.friendswv.org/wp-content/uploads/2015/08/FOM_logo_400x66.jpg
Jennifer Perrotte
2017-10-19 11:40:13
2017-10-19 11:42:03
TICKETS ON SALE NOW FOR NOVEMBER 18 ORCHESTRA CONCERT IN SHEPHERDSTOWN