Music Director: Jed Gaylin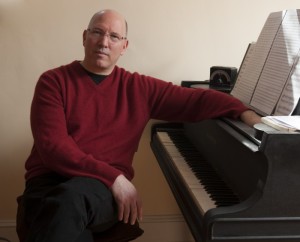 Orchestra members and soloists often recount how Jed Gaylin's rehearsals and performances elicit their very best, not only individually but collectively. His dedication to exploring the music's fullest potential in a collaborative spirit reaches beyond the stage to draw the audience into the creative act. Listeners feel far more than just welcomed by words from the podium—they feel engaged as participants in an eloquent musical conversation.
Jed earned both a Bachelor of Music in piano and a Master of Music in conducting at the Oberlin Conservatory, and a Doctor of Musical Arts in conducting at the Peabody Conservatory. Early in his career, Jed was awarded the prestigious Presser Music Award to conduct in Russia, and a National Endowment for the Arts award to conduct in Mexico. Since then he has forged close relationships with musicians throughout the world and has relished  making music with orchestras throughout Europe and Asia, such as the St. Petersburg Symphony, Bucharest Radio Orchestra, and the National Film and Radio Philharmonic in Beijing. He has taught master classes and lectured throughout the world including at the Shanghai Conservatory, the Peabody Conservatory, and the Eastman School of Music.
Jed was named Music Director of the Two Rivers Chamber Orchestra in 2012 after a nation-wide search. The quality he brought to the Orchestra's programming and performances was clear immediately. Throughout his tenure with the Orchestra, Jed has proven himself to be a creative, warm and intelligent professional. But, above all, he is a really good person whom we are fortunate to have associated with our Orchestra and with our community.
Jed is also Artist in Residence at Stockton University in New Jersey, the Music Director of the Bay Atlantic Symphony in New Jersey and the Hopkins Symphony Orchestra in Baltimore, where he lives with his wife, the poet Lia Purpura, and his son Joseph. The Bay-Atlantic Symphony is consistently praised for its level of artistry and precision, it is also viewed throughout New Jersey as a model for how professional orchestras can become a source of identity in their communities. As a sought-after creative partner throughout the region, the Bay-Atlantic Symphony has forged residencies with three area colleges, numerous towns, music festivals, and even casinos.
Jed Gaylin is a great asset for our community. Any music lover should take the opportunity to see him conduct and hear what he enables the Two Rivers Chamber Orchestra to do. We also encourage you to speak with him informally at Lunch with Friends or one of Friends of Music's social events.
Find out more at www.jedgaylin.com.